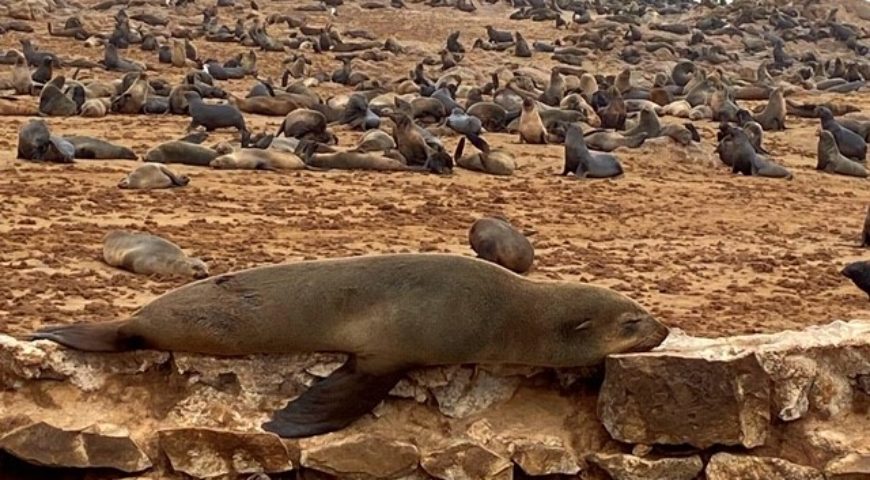 Our holiday vs Corona – 5
On our way north we drive alongside the coast for a while. We want to visit Cape Cross, because there is a large seal colony.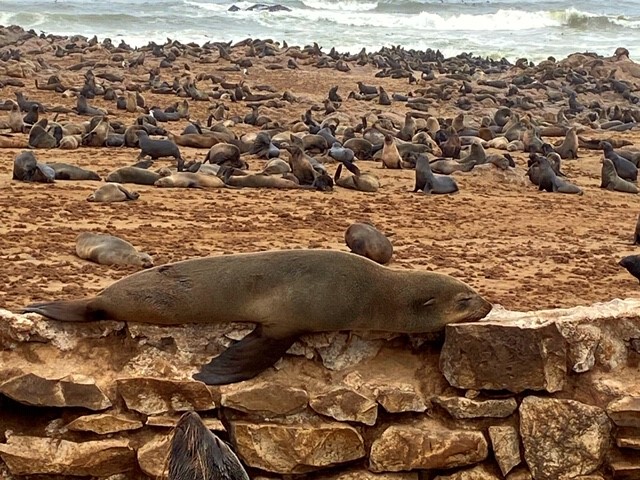 Innumerable wrecks lie in the sea along side this stretch of land, thrown and perished by the treacherous currents, strong winds and suddenly emerging fog back in the days.
If people were able to reach the coast, another hardship awaited them, the Namib Desert. No habitation or water for hundreds of miles. A piece of land so inhospitable and unfriendly to people, that many died of hunger and thirst.
The seal colony is a feast for the senses. Positive for eyes and ears, but certainly not for the nose. The stench is so overwhelming, it makes you want to vomit. I want to get back in the car and go, as quickly as possible, but the sight of thousands and thousands of seals swarming the beach and sea is too strong to resist, so we stay, cover our nose and mouth (what's new during this corona time) and walk between the seals.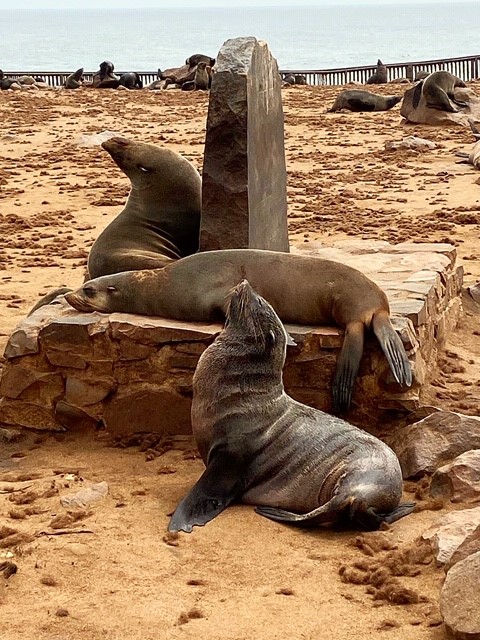 By the time we get back in the car, the stench settled in our clothes and hair and we 'enjoy' this smell the rest of the day.
We drive straight through the desert to Brandberg. In this desert there is hardly any life possible. But one plant survives in this harsh environment; the Welwitschia. It is a rare species, which only lives in the Namib dessert. It has been here for over 35 million years.
Looking at this plant you think its dead, but it isn't at all.
It survives through a large root system, extending below the surface and absorbing dewdrops falling from the long leaves.
On our way to our lodge near Brandberg we see dark clouds forming in the distance. It is hot, 36 degrees celsius, but when we finally reach the rain, the temperature drops to 27 degrees.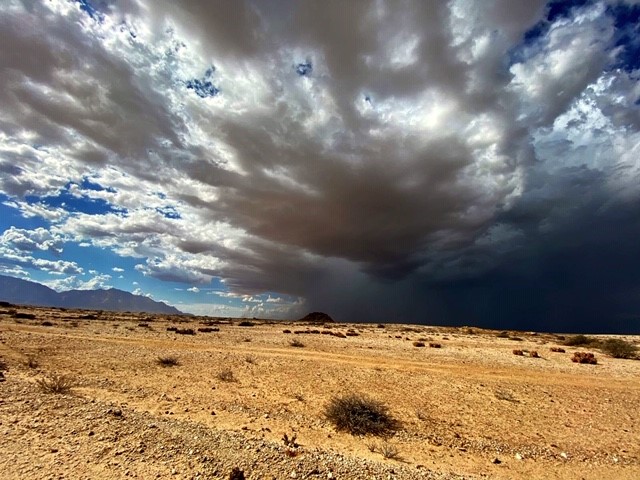 We see people filling jerrycans from puddles alongside the road.
At the end of this long day driving, we arrive at White Lady Lodge, a campsite with stunning views on the Brandberg mountains. The campsite is big, but almost no guests, only four cars, so we have a lot of space.
Waking up while the sun is rising you feel the heat of the sun on your face and you only hear the sound of birds, this is a real pleasure. We hear so many different birds, it is impossible to count them.
Back home our wake up call often is the sound of cars so we enjoy this abundance of bird sounds a lot. This is so much more pleasant.
At the reception we buy an internet voucher and we contact home, to get an update about the corona situation.
Things are deteriorating rapidly in the Netherlands, with many patients in the intensive care hospital units.
It is hard to imagine how it must be back home, living in a smart lockdown. Here in Namibia there are only 7 coronapatients, all tourists.
We hardly come across any tourists, but most lodges and restaurants close their doors because there is no business for them at all.
But that's all what we experience looking at the Corona situation.
We feel lucky to be here and to be able to enjoy this incredible country till the first of April.
To be continued…..
Writer is Astrid Kuijper-Voets