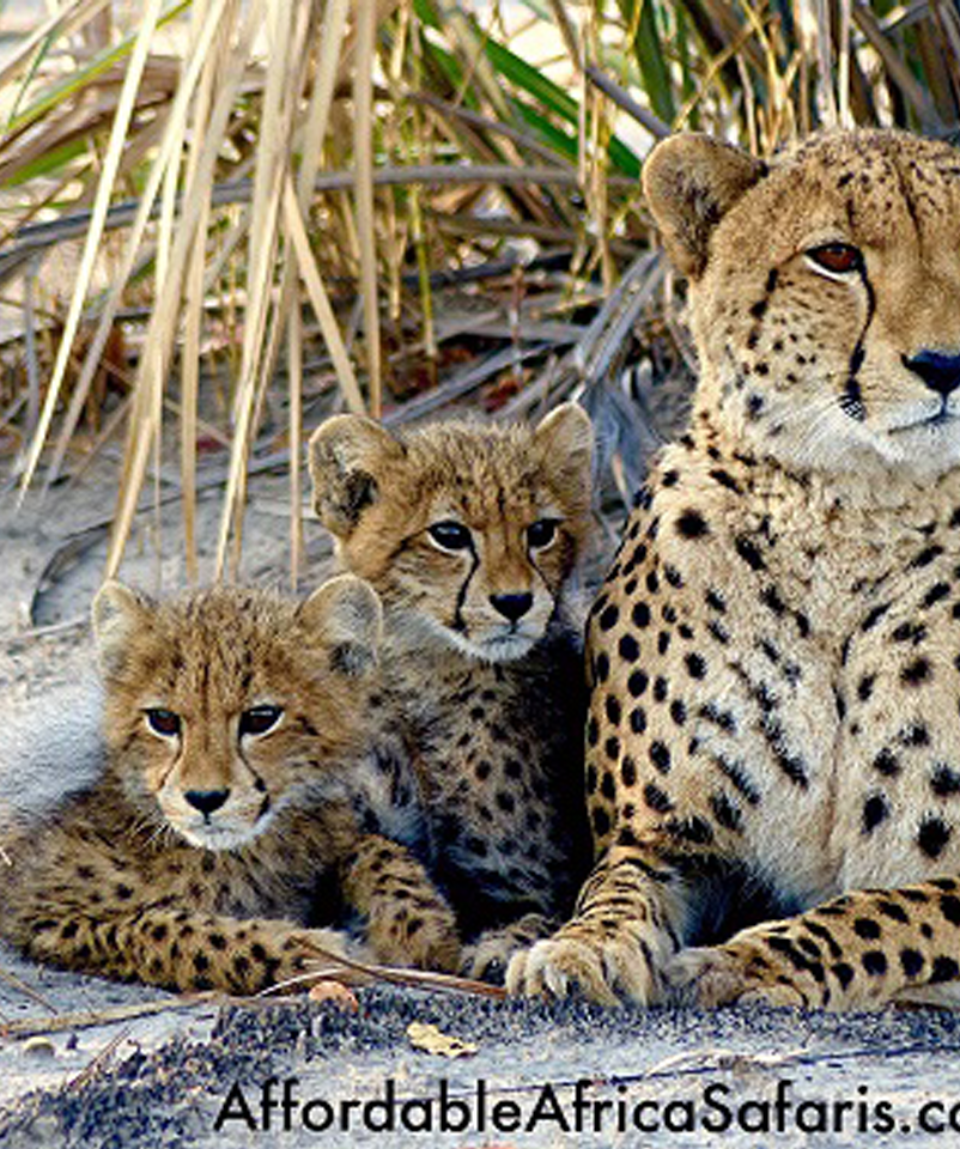 Kenya 7 days special
from
A 7 days Kenya wildlife budget safari to the Masai Mara famed for wildebeest migration and the big 5 and Masai cultural experience.
Lake Nakuru and lake Naivasha which are bird watchers' and naturalists' paradise as well as the Aberdare National Park, which covers the higher areas of the Aberdare Mountain Ranges of Central Kenya.
This trip enables you explore the scenic lakes of the Great Rift Valley on the hunt for hippos, crocodiles and flocks of pink flamingos, Rothschild giraffe, hyena, white and Black Rhino, elephants, cheeters, Zebras, Buffalos, lions, leopard, baboon, black and white Colobus monkey and sykes monkey, the golden cat and the bongo- an elusive forest antelope that lives in the bamboo forest in the Aberdare. Animals like the eland and spotted and melanistic serval cats can be found higher up in the moorlands. Also fishing – the famous brown rainbow trout – rivers have been stocked with these species and horse riding – in designated areas in the Moorlands and open grades in Aberdare North.
Price:
2 persons: USD 1.780,- per person
4 persons: USD 1.610,- per person
6 or more persons: USD 1.470,- per person
Accommodations is in comfortable hotels and tented camps.
All about the Kenya 7 days special.
Code: JS7-7
Country: Kenya
Number of days: 7 Days
Accomodation: Hotels & Tented Camps
Start: Nairobi
End: Nairobi
Price:

2 persons: USD 1.780,- per person
4 persons: USD 1.610,- per person
6 or more persons: USD 1.470,- per person
Accomodations
Wildebeest Eco Camp
Make your stay in Nairobi memorable by staying in Nairobi city's best permanent tented camp. The friendly, home-like hospitality is what has made Wildebeest Camp Nairobi's best accommodation choice for travellers, and a unique choice from a city hotel.
Wildebeest Camp is an oasis in Nairobi – the simply the perfect place to relax during your African migration!
Treetops Lodge or The Ark
Treetops Lodge:
Located in the Aberdare National Park, the Treetops Lodge Nyeri tree-house lodge on stilts is famous as the place where Queen Elizabeth II visited as a princess and left as queen.
The Ark
The Ark has four viewing areas from which to observe the ever-present animal activity at the waterhole and saltlick. There is also a ground level hide – the perfect spot for the discerning photographer. From this vantage point, photos of animals can be taken at eye-level.
Chester hotel or Lake Nakuru lodge
The Lake Nakuru Lodge is situated in a wonderland which lies in the heart of one of the Kenya's parks (Ramsar site), only two hours leisurely drive on first class roads-from Nairobi.
Fish Eagle Inn or lodge
Fish Eagle Inn is located on the Southern Shores of Lake Naivasha in the Rift Valley of South West Kenya and is about 90Kms from Nairobi. It has manicured gardens and rooms with a rustic look yet affording the comforts of modern living.
Sentrim Mara Lodges
Sentrim Mara Lodge is located adjacent to the Maasai Mara Game reserve, 3 km from Sekenani gate. The entire camp is spread over 100 acres of tranquil natural vegetation. The main guest area consists of the reception, lounge, restaurant, bar, fire place, pool bar, jacuzzi and swimming pool.
The tour package inclusions and exclusions at a glance
What is included in this tour?
Items that are included in the cost of tour price.
Transportation between parks and game viewing will be in a private 4×4 LandCruiser
Transport on an exclusive basis while on safari
Full board accommodation in permanent tented camps /Hotels
3 Meals per day while on safari- vegetarian & non vegetarian
English speaking professional driver guides
Park entrance fees
What is not included in this tour?
Items that are not included in the cost of tour price.
Items of personal nature such as phone calls, faxes
Meals not specified
Bottled drinking water
Gratuities/tips to driver guide
Sodas and alcoholic drinks
Day 1

Nairobi

On arrival at the JKIA airport you will be met and transferred to the then already reserved Wildebeest Eco Camp for your overnight.

Day 2

Nairobi – Aberdare National Park

After breakfast drive northwards with views of tea and coffee plantations around the Aberdare ranges and Mount Kenya to Outspan hotel for lunch from where you are transferred to the Treetops lodge OR The Ark by the lodges' own transport. Spend the night watching animals as they gather at the floodlit water hole.

Night observation of animals at the lounge offers exiting animal viewing with easy photography and comfort. Night visitors expected are Rhinos, Elephants, lions, bushbuck, warthog and night birds.

Day 3

Aberdare – Lake Nakuru

After breakfast drive around the northern part of the Aberdare ranges to descend into the Great Rift Valley, with a brief stop over at the Thompson Falls in Nyahururu.

Proceed to Lake Nakuru for a truly remarkable game drive that includes Flamingos as well as the rare white rhino in this world famous ornithological paradise with over 450 species of bird life.

This Lake is famous for its million plus flamingos. A shimmering hot-pink glow emanates across the Lake, created by millions of flamingos which migrate along the Great Rift Valley Lakes. Pelicans, cormorants and Marabou storks also feed on the abundant algae in the warm, shallow alkaline water.

All meals and overnight at Chester hotel or Lake Nakuru lodge.

Day 4

Lake Nakuru – Lake Naivasha

After breakfast, drive south along this scenic valley to Lake Naivasha. This is one of the Rift Valley's fresh water Lakes with different ecology from that of the soda Lakes. It is also home to a large variety of bird species. After lunch, take a boat ride on the Lake, viewing hippos and a wealth of bird life.

All meals and overnight Fish Eagle Inn or lodge.

Day 5

Lake Naivasha – Masai Mara National Park

Depart after early break, climbing out of the Rift Valley, to enter the Masai Mara reserve, part of the Serengeti – Mara ecosystem.

After lunch be ready to experience some of the best game viewing in Kenya's most exciting game reserve.

All meals and overnight at Mara Sentrim Camp.

Day 6

Entire day safari Masai Mara National Park

Morning and afternoon game drives to view lion, elephant, giraffe, buffalo, zebra, topi, hartebeest, cheetah, gazelle, warthog, and abundant bird life.

Sunrise and sun downer are the greatest moments for game viewing in these mystic plains, a time when the soft red hues of the sun will give your photographs the clarity of the actual African savannah.

Accommodation at Mara Sentrim Camp.

Day 7

Masai Mara - Nairobi

Morning game viewing drives before breakfast. After breakfast drive back to Nairobi.