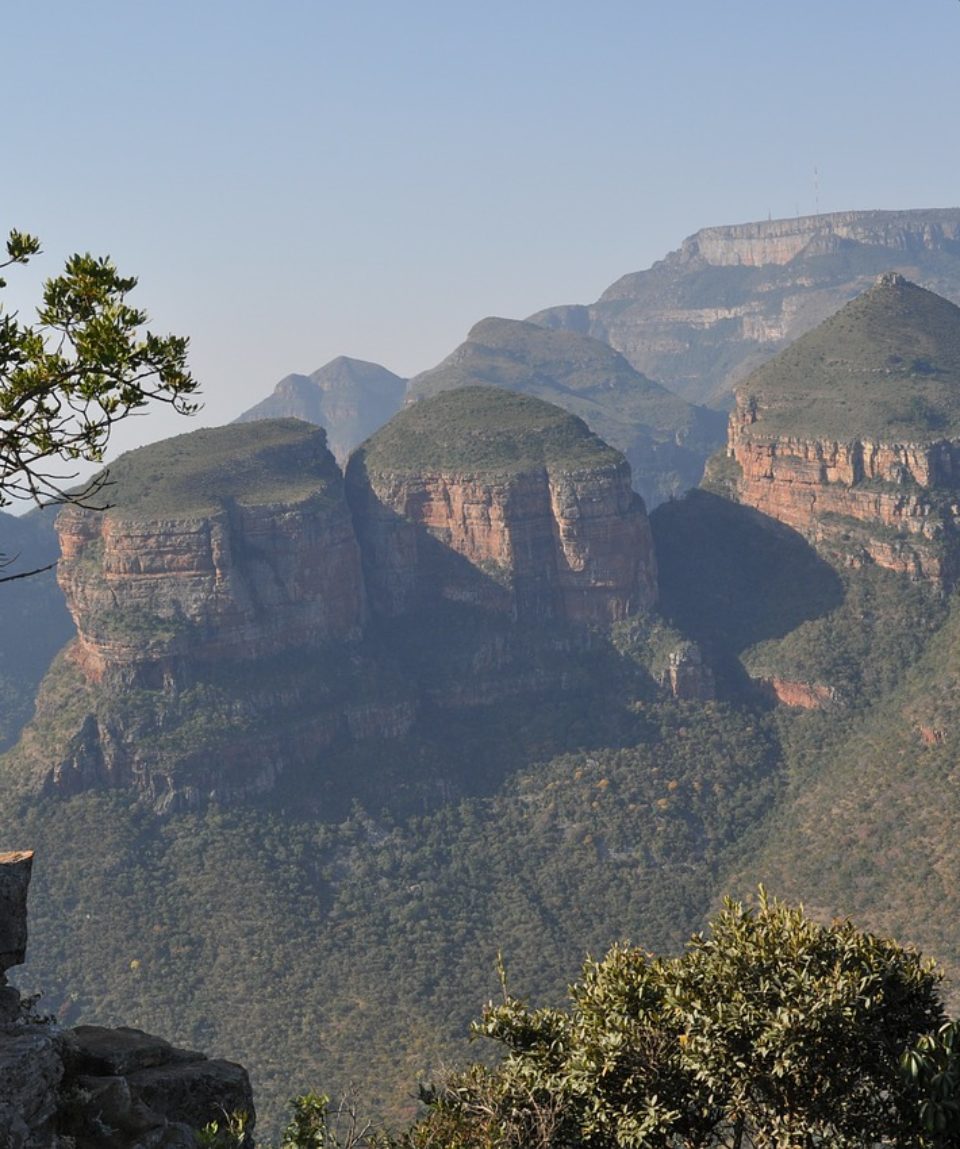 South Africa 8 days
from
An 8 days self drive safari to South Africa from ZAR 8.600,- (app. € 449,- or USD 499,-) per person sharing.
We always use the exchange rate of the day.
Price in South African Rand (ZAR) is the leading price.
Highlights: Panorama Route, Blyde River Canyon, Three Rondavels, Kruger Park, Mpumalanga Highlands.
All about the South Africa 8 days.
Code: CaraSpec-08
Country: South Africa
Number of days: 8 Days
Accomodation: Boutique Hotel & Lodge & Self catering accommodations
Start: Johannesburg
End: Johannesburg
From R 8.600,- (app. € 449,- or USD 499,-) person sharing.
Accomodations:
Safariclub South Africa
Born out of a desire to offer guests a true safari feel throughout their entire African trip, we created the ultimate bespoke overnight accommodation only 5 minutes from OR Tambo airport. 100% privately owned and managed, The Safari Club is one the best loved airport stays in Johannesburg.
Blyde River Canyon Lodge
The Blyde River Canyon Lodge is a hidden jewel, set alongside the sparkling waters of the Blyde River and affectionately sheltered by the majestic Drakensberg Mountains. The lodge offers local and international travellers a unique African bush experience.
Skukuza Rest Camp
Skukuza Camp is the capital of Kruger National Park. It is the biggest camp and includes facilities such as a shop, ATM, internet cafe, restaurant, library, fuel station and more.
Shamrock Arms Lodge
Superbly situated on the Mpumalanga Highlands Meander Route – a mere two and a half hour drive from Johannesburg – and clasped by the picturesque and historic village of Waterval Boven / Emgwenya – you are guaranteed a country-village ambience that will soothe your soul.
The tour package inclusions and exclusions at a glance
What is included in this tour?
Items that are included in the cost of tour price.
All Accommodations
All meals as specified
Transfer after arrival in Johannesburg
Group C rental car
What is not included in this tour?
Items that are not included in the cost of tour price.
International flight
Park fees
Meals not specified
Drinks
Tips
Items for personal use
Day 1

Meet & Greet at the Airport OR Tambo Johannesburg

Johannesburg is one of Africa's biggest and most vibrant cities. It is the economic capital of Africa and the gateway to Southern Africa. Although not as famous as other South African destinations, there is plenty to do in Johannesburg and nearby Pretoria.
The old city is a multi-cultural mixture of traditional medicine shops, Chinese restaurants, taxi ranks and ultra-modern skyscrapers. There are excellent museums, art galleries and organised tours of historical and political interest. The shopping is Southern Africa's best and the many restaurants cater for all tastes. The nearby township of Soweto is Johannesburg's most popular tourist attraction.

Overnight: Safari Club SA, on B&B basis including free transfer from/to ORT airport
​
Safari Club SA is a lodge with an African theme located in Johannesburg, South Africa. The Club is centrally situated in the economic heartland of South Africa – Gauteng Province. The capital city, Pretoria, is approximately 50km away and Johannesburg only 18km. Emperor's Palace, a world class casino with more than 12 restaurants, is only 7km down the road. The well-known Pilanesberg area with its nature reserves and Sun City complex is 150km by road and it is 400km to the world-renowned Kruger National Park in Mpumalanga.

The Club has a luxurious yet homely ambience. The public areas comprise lounges, a bar, a business centre as well as a separate breakfast room. A beautiful new swimming pool has been installed to ensure the comfort and relaxation of guests during the hot African summer. The bar is decorated as a tribute to the famous Nguni cattle and adorned with beautiful fittings in this theme.

Day 2

Blyde River Canyon, Panorama Route

Connecting the Lowveld and the spectacular Drakensberg, sandwiched between the Kruger National Park and the Highlands Meander, the historical Panorama Route is a scenic road in the Mpumalanga Province.

The route features sensational views of breathtaking natural wonders, fascinating rock formations, impressive waterfalls, scenic hiking trails, and a myriad of fauna and flora.

The quaint little town of Graskop serves as the gateway to this wonderful
route. Panorama's undoubtable highlight is the verdant splendour of Blyde River Canyon, one of the world's largest green canyons featuring lush subtropical vegetation. Some other popular natural attractions along the route include:
the spectacular Lisbon, Berlin, and Mac Mac Falls, Bourke's Luck Potholes, the Three Rondavels and the astonishing God's Window. Don't miss the world-famous Kruger National Park and the picturesque gold rush town of Pilgrim's Rest, a historic living museum.

Overnight: Blyde River Canyon Lodge, on B&B basis

Days 4 - 6

Kruger National Park

Stretching over more than two million hectares, the Kruger National Park is one of the world's largest game reserves and a truly remarkable destination.
Owing to its exceptional size, visitors are able to experience fantastic diversity – from changing scenery and ecosystems to an impressive array of animals, plant life and birdlife. The park is home to over 130 mammals and over 500 bird species. Visitors can look forward to learning about the area's prehistoric past, enjoying a host of accommodation options, and viewing abundant wildlife including the famed Big Five. The diversity sheer density of wildlife makes Kruger National Park an unforgettable and potentially life-changing experience.

Overnight: Skukuza Rest Camp, room only basis

As the headquarters of the Kruger Park, Skakuza has become a little town in the middle of the bush. Its 1400 residents and thousands of daily visitors enjoy wonderful views through Sycamore Figs and Natal Mahoganies.

Situated on the banks of the Sabie River, the camp's activities and facilities are diverse, as are the area's plant and wildlife. Accommodation options include campsites, 21 furnished safari tents, semi luxury bungalows, cottages and 4 guesthouses. It also features a doctor, a shop, a bank, a post office, a library, a museum, a restaurant and a cafeteria with decks overlooking the river.

Day 7

Mpumalanga Highlands

Set high on the escarpment, the Mpumalanga Highlands feature endless savannah plains meeting steep mountain passes hugging rugged rocky cliffs. The Highlands of Mpumalanga are a playground for nature and adventure lovers.

A number of charming, high-altitude, grassland villages are scattered on a sea of cattle ranches which are interspersed with numerous trout fishing locations and mountain hideaways. Aside from the trout and quaint towns the highland scenery and flora and fauna are also major attractions. Visitors can enjoy a number of wonderful activities including: discovering crystal-clear streams and cascading waterfalls, visiting the Highland's tourism mecca of Dullstroom, as well as horse riding, whiskey and beer tasting, hiking, fly fishing and much more.

Overnight: The Shamrock Arms Guest Lodge, Dinner – Bed & Breakfast basis

Shamrock Arms was a finalist in the lodge category of the 2010 South African Tourism Welcome Awards, which means that its considered to be of the cream of the crop in the tourism industry – always hospitable, always professional and always passionate about delivering service excellence.
You'll find the lodge in the picturesque and historic village of Waterval Boven in Mpumalanga Province. It is authentically Victorian and comfortably modern and traces its history back to 1894.
Because the guest lodge is only a 2-and-half hour drive from Johannesburg it's an ideal stopover for the business and leisure traveler on route to the Kruger National Park, Swaziland or Mozambique.
Shamrock Arms is also the perfect base from which to explore many places of interest and scenic beauty in Mpumalanga. Your host Terry, an accredited and registered tourist guide, can offer guidance on any tourist related matters.

Day 8

Back to ORT Airport Johannesburg

The Shamrock Arms Guest Lodge to OR Tambo International Airport [JNB]

Distance: 243.01km Travel Time: 2:20 hours